So, i recently had some huge fps breaks with vanity, i had 150 fps and when i moved my camera/ jumped/ shooted they were going to arround 70 - 50. I was tired of it so i've found a fix and im here to share it.
(p.s. I only tested with my nvidia card but it should work with amd and this
may or may not
fix your fps drops im not sure 100%)
Nvidia:
right click on your desktop and select NVIDIA Control Panel (you can also search for it, it should apear)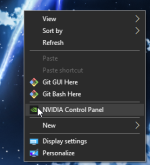 once the panel is opened go here

make it balanced or performance

Here you go, ready to play!
AMD:
Go to your AMD control panel
Go to
Gaming
>
Global Settings
Replace your current settings with these ones:
And you are ready to play!
(p.s. if any of you amd users uses these settings and they work just reply telling me that it worked, thnx)